Our Work Makes a Difference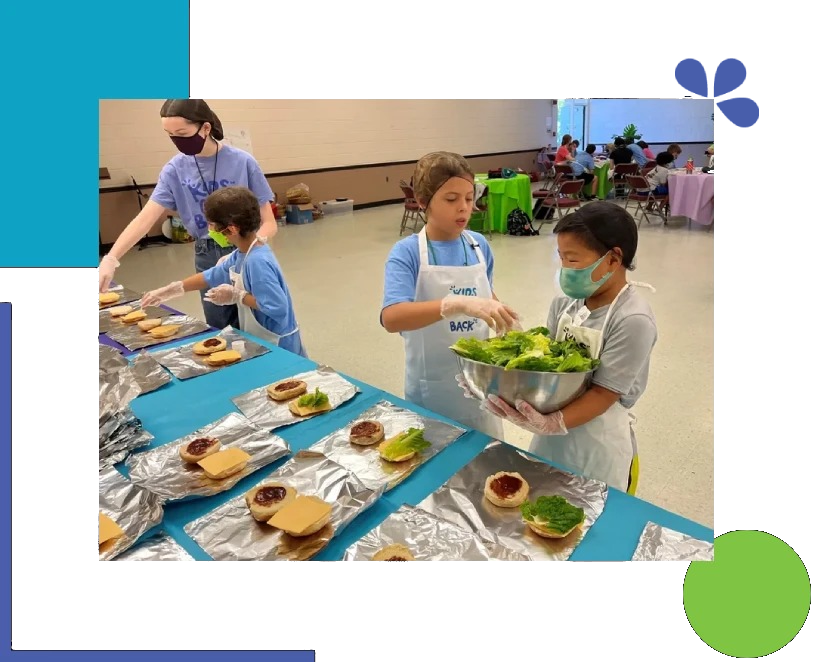 Preparing Meals at Summer Volunteer Camp
"The two groups of summer campers collectively prepared enough dinners for FACETS to serve 275 meals. On top of that, the campers spent time thinking about the community's specific needs and prepared healthy and delicious options. They clearly understood how important it was to give people the respect and dignity every human deserves!"
"The campers are such a wonderful group and give me great hope for how our community will change as they start being leaders!" —Suzanne Hough, Volunteer Manager, FACETS.
In 2022, we invested $15,000 in the community, which helped 30 nonprofits meet their programmatic goals.  2,700 In-kind donations were prepared by children, including:
600 snack packs for families in need
350 hot meals for individuals experiencing food insecurity 
300 Valentine gifts and 150 cards for senior citizens
150 appreciation for the INOVA hospital team
100 gift newborn baskets for expectant parents
100 storybook character costumes, tote bags, and books for kids at Title 1 schools
100 "You've Got This" gift baskets for teachers at a low-resource school
50 birthday bags for low-resource children and 50 gifts for students graduating from the Davis Career Center. 
Gifts for the INOVA Healthcare Team
"I am a nurse at Inova.. on Monday I was having a difficult day at work. I was going from one task to another and it was becoming late and I was tired and hungry. Suddenly I see a nurse handing out bags and I received one and looked in and gave a sigh of relief. I see a nurse handing out bags and I received one. I am writing to thank the children... and to let them know that it made all the difference to me that day."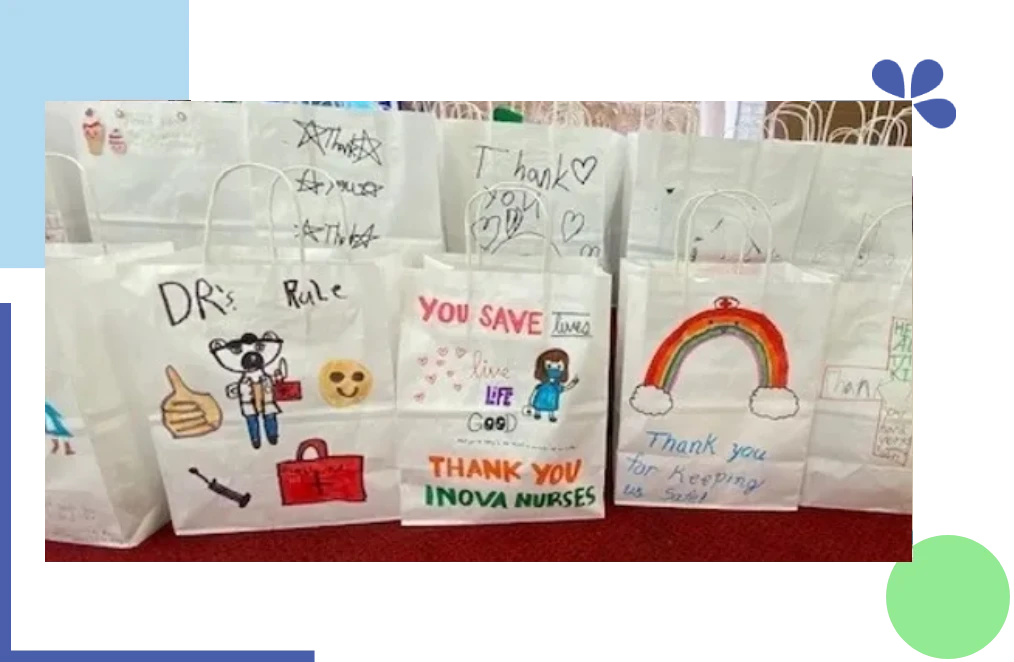 Baskets for Elementary School Teachers
"We received the loveliest gift boxes from
@KidsGiveBackVA. Thank you, thank you, thank you! This brightened up my week!" - Teacher, Woodburn ES
"We are so thankful for
@KidsGiveBackVA
and their amazing donation of 72 teacher appreciation baskets for our Woodburn staff! We are blown away by their generosity and especially love the handmade gifts. Kids serving their community warms our hearts!
@FCPSR2
#togetherwegrow, Principal, Woodburn ES